There are three things that every real estate agent needs to be successful – patience, persistence, and friendships.
After six years of contact, Lauri Strain is proud to share the details about this impressive, off-market sale in Paso Robles.
The History
When asked about this deal, Strain reflected, "I first contacted the original owner in 2016. After many conversations together, we became friends, and I was deeply saddened to learn of his passing in 2017."
After the owner's death, Lauri reached out to his brother, Paul, who inherited the property. She knew he would need help during this difficult time. Understandably, the decision to sell his late brother's home weighed heavy on him. There was also the additional challenge of him living out of state.
Finally, in October of 2021, Paul called Lauri, ready to move forward with the sale.
The Challenge
The new owner had one requirement before selling. Strain could not list his property on the open market.
She rose to the challenge and quickly found a first-round buyer that offered over asking. However, after the property inspections, that buyer got cold feet and backed out.
Once again, Paul hesitated to move forward with the sale, but Lauri asked for one more chance to find the perfect buyer.
The Success
One of the benefits of being a Side partner is the incredible network of agents.
Through this community, Strain became friends with another Side partner, Susan. She had been looking for an investment opportunity in Paso Robles for quite some time.
After showing her the property, there was no doubt. This duplex was the investment opportunity Susan had been searching for.
Now Lauri is celebrating with a satisfied seller and a happy buyer! You can read Susan's glowing testimonial
here
.
Soon enough, Susan will transform this duplex into a stunning vacation home with gorgeous eastward views of Paso Robles.
After six years, three friendships, and two buyers, Lauri and her team are proud to announce the off-market sale of 34 Hillcrest Dr, Paso Robles for $509,000.
Are you interested in selling your home off-market? Contact Attune Real Estate today to learn how we can sell your home quickly.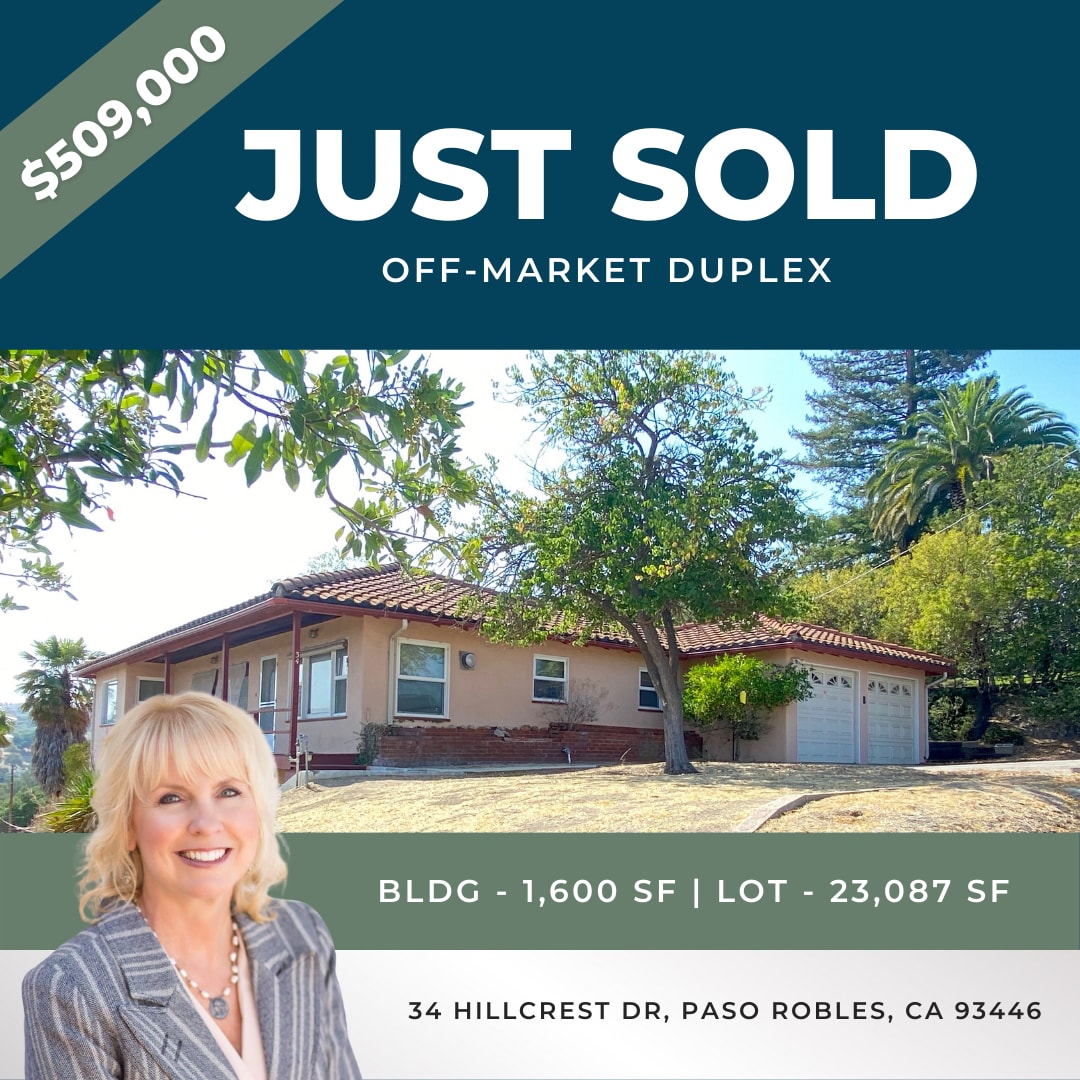 ---
Founded by Lauri Strain in 2020, Attune RE is a boutique real estate firm serving San Luis Obispo County.
Peace, community, and being "attuned" with others are at the core of Attune's mission. Attune Real Estate offers more than transactional real estate services. We are committed to providing knowledge, care, and awareness to your real estate journey through access to value-packed content, industry experts, and concierge-level amenities.
Today, Lauri's talented team of agents continues to grow, enabling them to help even more families along the central coast.