Considering selling your home soon? You may be asking yourself — do I need to stage it?
The answer is YES! Not only can staging your home lead to an increased sale price, but it can also reduce your time on the market.
Why Realtors® Recommend Staging Your Home
According to a 2021
Association of Realtors® report
, "Twenty-three percent of sellers' agents indicated that staging helped increase offer amounts by up to five percent. Eighteen percent of agents said that staging increased offers by six to ten percent, and six percent of agents saw offers increase to 11 to 15 percent."
Based on the data, it's clear that if your goals are to sell quickly and for top dollar, you need to consider staging your home or at least parts of your home before it hits the open market.
Before we get ahead of ourselves, there are two more things you need to consider — the cost and time required.
The cost of professional staging can vary from home to home. If you choose that route, we highly recommend asking your Realtor® for their recommendation as soon as possible. They can put you in contact with their preferred interior designer or make suggestions on which areas of your home you should focus on.
If you're facing budget and time constraints, refer to the suggestions below and ask your Realtor® for guidance on the main priority areas to stage.
Before we dive into our 30 DIY ways to stage every room of your home, we need to cover the three Ds.
The Three Ds of Selling Real Estate
As you prepare your home to sell, try to apply the three Ds in every room.
Declutter: Buying a home can already be a stressful process. Help potential buyers eliminate further stress by decluttering and making your home a welcoming environment.
Depersonalize: This step might feel strange, but remember, buyers need to be able to visualize themselves in the space. If your personal items/photos are all over, it will be difficult for them to envision their lives there. Remember you're not designing for yourself anymore, your goal is to attract multiple buyers.
Deep Clean: It's amazing how much of a difference a deep clean and minor repairs can make. Our sellers have found it helpful to have a cleaning checklist before each open house or private showing. For example:

Take out the trash.
Wipe down counters.
Open the windows or blinds.
Vacuum and/or clean the floors.
Eliminate smells by using an air freshener or a diffuser.
Even if you only take these three steps, it will still make a noticeable difference to potential buyers that consider your home.
Now that the basics are covered, here are 30 DIY ways to stage every part of your home.
How to Maximize Your Curb Appeal
Your curb appeal does make a difference! In real estate, first impressions matter, and chances are a buyer will make up their mind before they even walk through the front door. Here are some easy ideas to make the front of your home stand out.
Give your front door a fresh coat of paint, maybe in a fun pop of color to attract the eye.
Pay attention to your landscaping, take care of your lawn, trim overgrown plants, etc.
Make your entryway welcoming with seasonal potted plants by the front door.
Remove all clutter, for example a garden hose or a shoe rack.
Add a fun, door mat, ideally one that isn't too personal.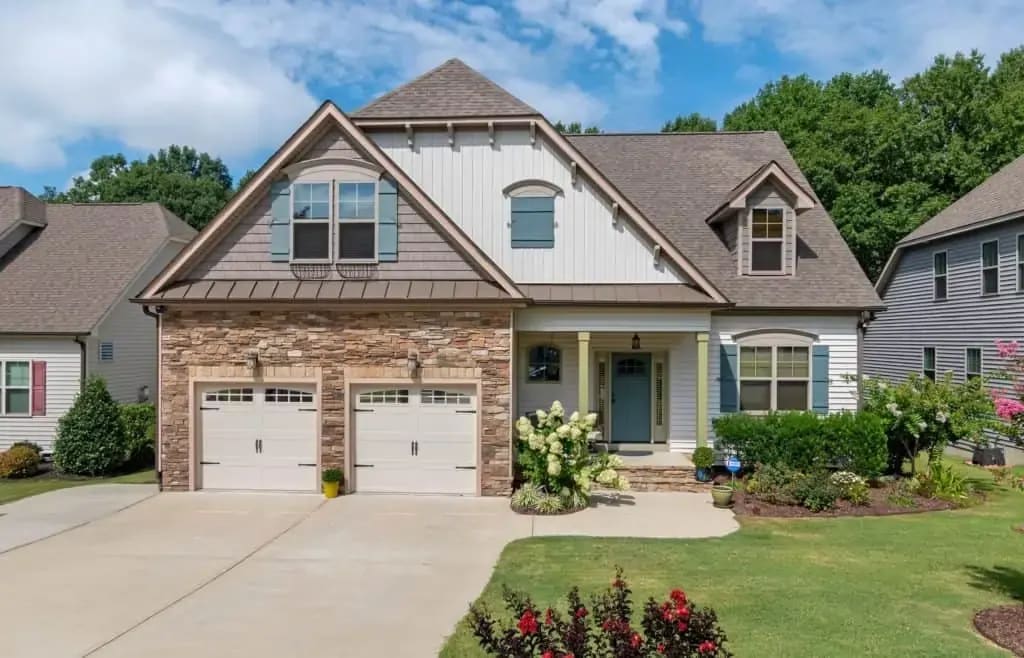 Notice the attention to landscaping and the blue front door that matches the shutters.
Brighten Your Entryway & Living Space
In addition to the three Ds, take this opportunity to brighten your space! You want your home to feel like a breath of fresh air. Here are some ways you can accomplish this:
If time permits, give your walls a fresh coat of paint in a neutral color such as white or a pale, light grey.
Add a vase of fresh flowers and a few houseplants to bring life into your space.
If your walls look bare without personal photos, consider adding an elegant mirror or a neutral piece of artwork.
If needed, update your throw pillows to soften the space. Rather than buying bold prints, stick to modern, contemporary designs.
Decorate in items of three and varying heights. Studies have shown that this combination is more pleasing to the eye!
If you have dark drapes, consider replacing them with lighter ones. This simple switch can instantly make a room feel brighter.
Reorganize or remove furniture. The goal is to make your home feel open and airy.
Lastly, use a light scent diffuser or air freshener. Give your home a pleasing signature scent.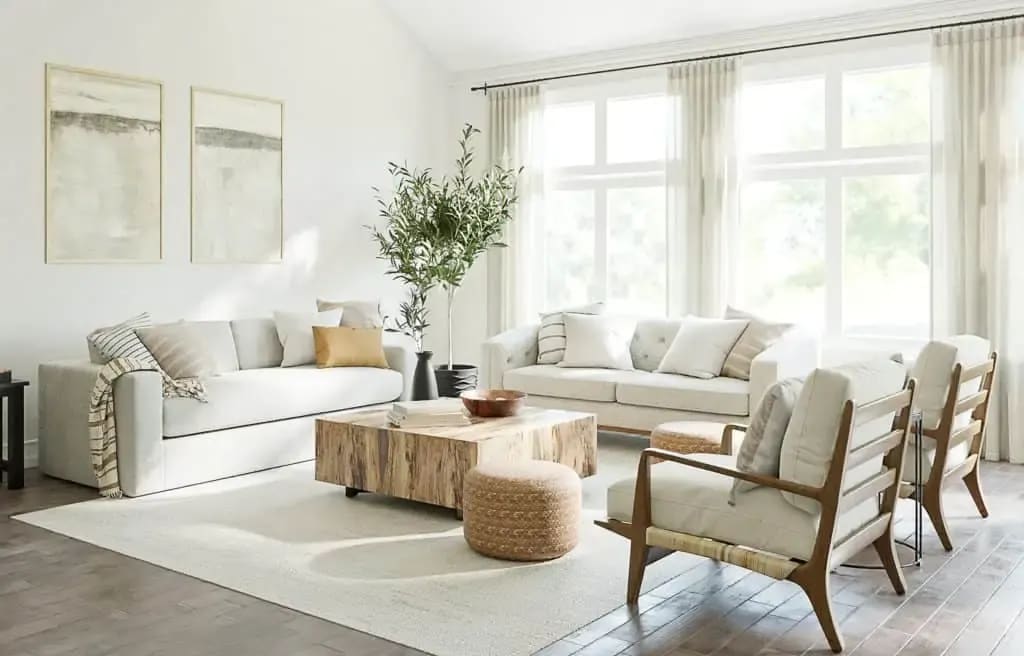 Notice the varying heights of the decor on the coffee table, the flowing drapes, the houseplants, neutral artwork, and updated throw pillows.
Make Your Kitchen Stand Out
The kitchen and primary bath are the two rooms that potential buyers judge the most. Considering that, this is an opportunity to make your kitchen shine!
Use a decorative bowl of green apples or lemons to bring a pop of natural color.
Consider an arrangement of fresh flowers or potted herbs on the counter.
Organize your cupboards and pantry! Trust us, Buyers will open your cabinets and take a peek. If the cabinets and pantry are overstuffed, it tells buyers that your home does not have enough storage.
Remove any items attached to the outside of your fridge, and give everything a good polish.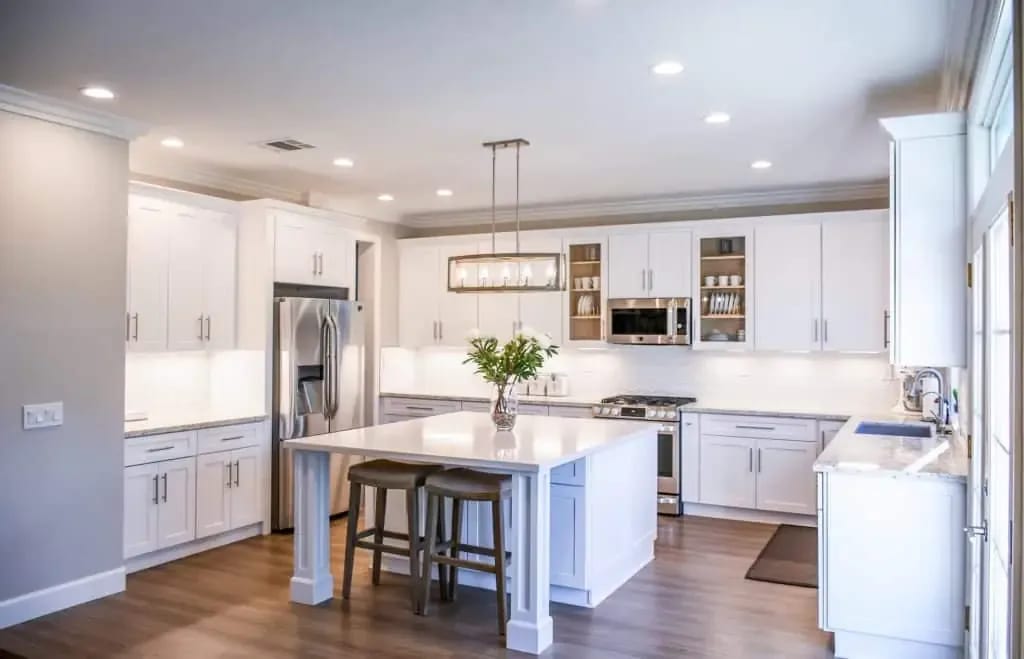 Notice the flower arrangement, empty fridge, zero clutter, and reduced items in the open-shelving sections.
Transform Your Primary Bedroom
This is the other room that buyers tend to pay the most attention to!
Make your bedroom mimic a luxury hotel room by using white linens and white drapes. Avoid linens with dark colors that could make the room feel cramped or dingy.
Add pops of color through tasteful throw pillows, blankets, or a rug.
Remove about 20% of clothes from your closet. Remember, overstuffed areas will make buyers concerned about a lack of storage space.
To take it to the next step in home organization, use matching hangers for all your items and organize your clothes by color.
Hide cords, personal items, and other objects that make the room feel cluttered.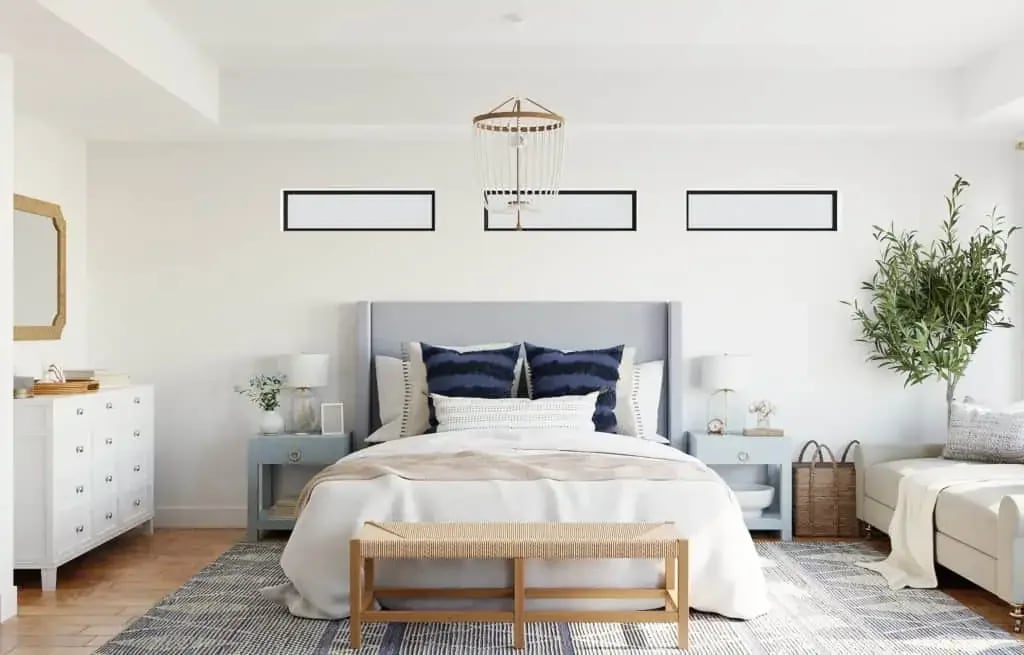 Notice the white linens and blue throw pillows that add a pop of color to the space.
Update Your Ensuite & Bathrooms
In all the bathrooms, the goal is to increase the perceived idea of luxury within your space.
Utilize white linens (towels, hand towels, and shower curtains) to upgrade your space.
Employ a scent diffuser and reduce personal clutter in your bathroom storage. Remember to organize it!
If possible, add a vase of flowers and some peaceful art to uplift the space further.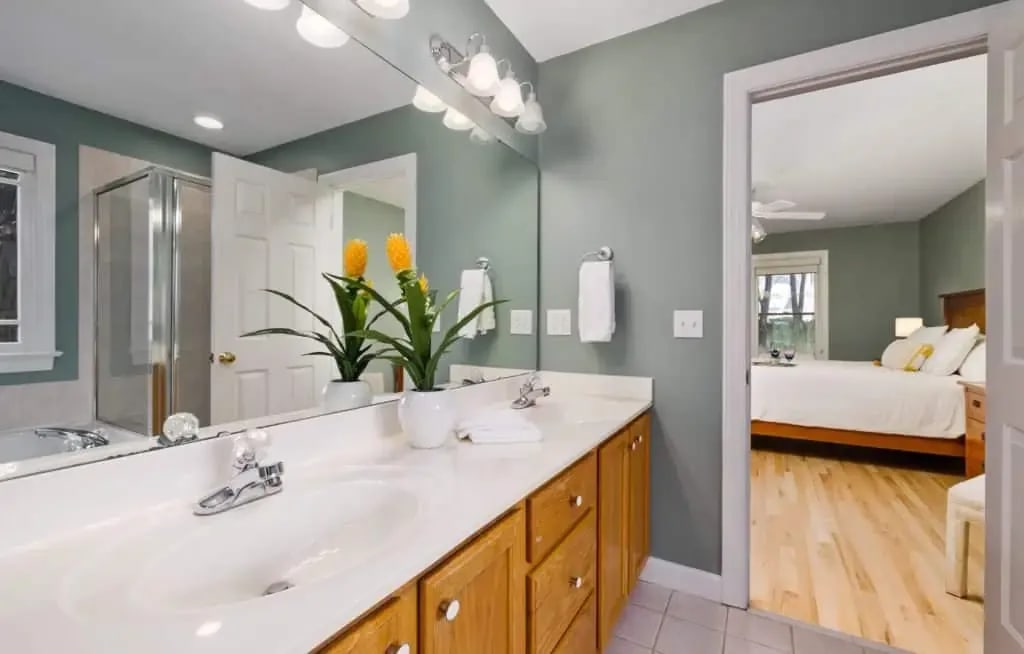 The use of white linens and a live plant instantly brighten this outdated bathroom.
Other Spaces
If you have a tight budget and little time, we recommend focusing on the spaces above. However, if you want to stage your entire home, remember the three Ds. Additionally, aim to define each room.
For example, you might wonder how to style an empty room on a low budget. Two ideas are to set it up as a home office or a workout room.
Always Ask Your Realtor®
We understand that selling your home is an overwhelming process. And although staging requires a little extra effort, we've seen with our own eyes how even the simplest of staging tricks can help sell a home.
When it comes time to sell your home, use these 30 DIY ways to stage as a guide and ask your local Realtor® for their input.
And, if you're selling in the central California area, our agents at Team Attune are happy to offer a free consult. Which staging tip was your favorite?